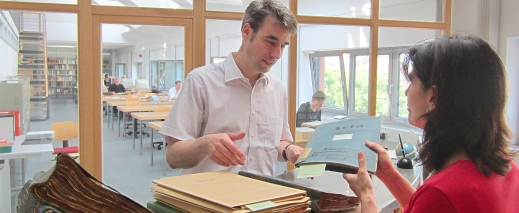 Use
Reservations for a workplace in the reading room are no longer required. Usage is possible at any time during the hours of operation.
Basic information
Anyone with a certain interest may use the records of the Central Archives in Berlin. Access is given under the provisions of the archival law. The use of records is only allowed in the reading room and governed by the reading room regulations.
During the preliminary stages of your personal visit, please send us an informal written letter or email to explain your subject and the purpose of you inquiry. We will soon give you an answer, whether and in which extent we keep relevant records.
After completing an application form for readers ("Benutzungsantrag") you will be granted access to the requested files. In signing the application form for readers you undertake to comply with the access regulations, the cost regulations, the data protection law and the protection of privacy.
Please notice that for private purpose our reference service is fee-based. Any inspection of files due to your enquiry is subject to a charge.
In our reading room you will find a reference library containing important works on church history, especially of the 19th and 20th century, dictionaries and general reference books etc. Every workplace is fitted with electrical connections for notebooks. A reader-printer is available to make copies from microfiched parish registers.
Further Information: